Against the Grain - meet restaurant Hörte Brygga in Sweden
In an abandoned eel fishing harbour west of Ystad on Sweden's south coast lies a restaurant called Hörte Brygga. Chef Martin Sjöstrand and his wife Emma have chosen a lifestyle with high risks. Now they're being paid back with great rewards.
In an abandoned eel fishing harbour west of Ystad on Sweden's south coast lies a restaurant called Hörte Brygga. Chef Martin Sjöstrand and his wife Emma have chosen a lifestyle with high risks. Now they're being paid back with great rewards.
Driving along the rocky coast of the southern - most tip of Sweden in February, the sea offers an impressive sight. The Baltic is clear grey and the fast-moving clouds above the foaming waves vary in colour from metallic grey to almost black. The strong wind penetrates even thick layers of clothes and finds its way through any crack into houses, hitting the skin with a pure, damp chill.
Last time we were here it was in the green of high summer. So, with no leaves on the trees, no sun and no crowds of guests on the terrace, we drive past our destination. Initially, the Hörte Brygga restaurant goes by unnoticed. The old harbour where the restaurant sits consists of a gravel parking lot, two small buildings and a handful of abandoned fishing boats.
Emma Andersson Sjöstrand welcomes us, with a humble smile, into the tiny restaurant building with its shelves full of jars of pickles, wine bottles and books. Behind the kitchen counter stands Martin Sjöstrand, who's in the middle of waking up the restaurant after its dormant winter season. The sounds of one of Bob Dylan's storyballads on vinyl fill the room. We warm ourselves with mugs of steaming coffee and sip cider made by a friend of the couple. Martin looks out of the window at the raging waves."There's not much fish in that sea. This used to be a lively little harbour for eel fishermen. But now, none of them fish full time – although a few will be back in the summer. That's when this place really wakes up and is full of life and joy."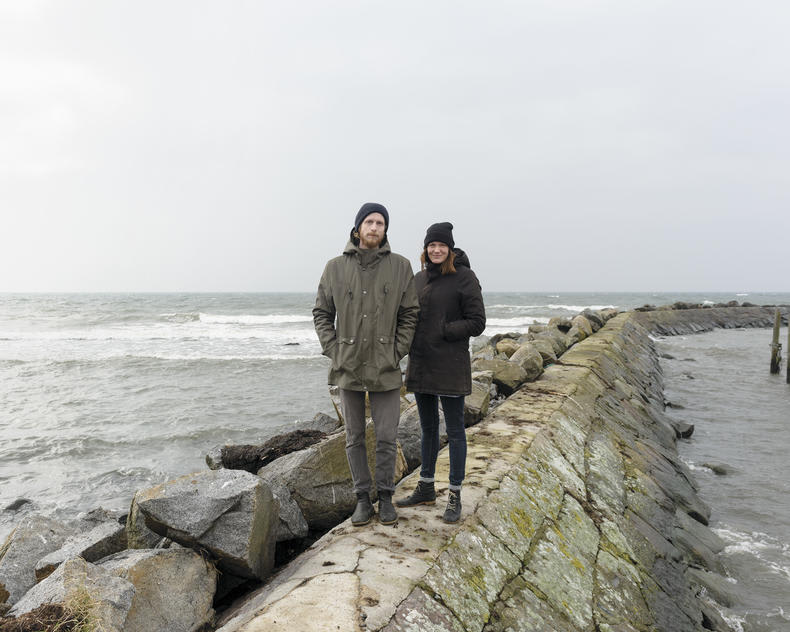 Journey through various kitchens
Born in the small town of Karlskoga deep in the forests of Värmland in eastern-central Sweden, Martin Sjöstrand grew up with no culinary role models whatsoever. "The gastronomy of my childhood home town didn't stretch further than the tournedos black and white at Marinas Krog, the only decent restaurant in town. Later on I was drawn to the craft of cooking and the idea of creating something beautiful with my hands. And, the most important thing, the instant reward after serving up a good dish."
Martin started working as a cook when he was just a teenager, and worked his way through various kitchens until he ended up at Gothenburg's top restaurant, Sjömagasinet. It was there that he met Emma, who was working as a sommelière. They both spent years working in different restaurants in Sweden. At one point they were even working in different cities – Stockholm and Gothenburg – meeting briefly during their days off.
While Martin was working in Stockholm, he was asked by a sommelier friend to come and help at the then-fairly unknown restaurant called Fäviken, near the ski resort of Åre, where the chef Magnus Nilsson needed an extra cook.
Great produce is the most crucial element for a restaurant – that's why I hail producers as the great heroes behind my cooking. Chef Martin Sjöstrand
"I called Magnus Nilsson and we agreed that I would start working at Fäviken. Working there really taught me a lot. Magnus would question every technique, every tradition and every rule that I had learned in the big classical kitchens where I'd been working. In almost every case, Magnus would find a better solution or just skip the bits he found useless. It was there that I learned to free my mind and dare to go my own way."
Mutual passion for restaurants turns into an own place
Emma spent her childhood in Ystad, and as a teenager had decided to see the world. She worked in Oslo, San Sebastian and Gothenburg, and found she loved working in bars and restaurants. When she and Martin finally decided they wanted to have their own place where they could put their mutual passion for restaurants to use, they started looking in Stockholm.
"But we soon found that the rents and the produce there weren't that attractive. That's when we decided to move down to Skåne county, where I grew up. We knew there was a gap in the restaurant scene along this coastline and we knew we'd be able to find a building we could afford. Plus, as anyone working in food in Sweden knows, there's great produce in this part of the country."
So the young couple moved south and started working to raise the funds for their restaurant project. After two years of graft, they signed a contract with a local fishing society in Hörte. The contract stated that Emma and Martin could run a restaurant in their own way, being granted great freedom to set their own hours and decide what to serve. This freedom has come in handy now there are two small children in the family.
Hörte Brygga was, and still is, basically a counter and a small dining room indoors, with a terrace, a rusty smoker cabin and charcoal grill outside. The menu varies every week – one week it might be built around root vegetables or fish, the next they might use pork from the neighbouring farm. There is plenty of great produce around here, if you can find your way to it.
Martin has earned that you have to get to know people here to get things done. "You don't just go to a farm and ask the farmer to sell you a cow. Nothing happens here before you've had coffee and a few whiskies with the farmer – especially if you speak the strange northern dialect that I do." Martin says.
If you never faced any challenges in life you'd never be able to achieve any of your dreams. Emma Andersson Sjöstrand
Life doesn't seem to follow strict rules in Sjöstrand-Andersson family. There's controlled chaos as there is in every family with small kids. But there must be worries about the restaurant, which supports the family. One wonders with all the stress and risks related to running a restaurant, there must be some fear of failure, of losing everything? Emma, without hesitation, and with a motherlike pride, answers smilingly. "If you never faced any challenges in life you'd never be able to achieve any of your dreams. I really don't have any big fears about the business. And, at the end of the day, the worst possible thing that could happen would be that the business goes down the drain. And how bad is that?"
Restaurant Hörte Brygga Hörte Hamn Dybäck 465 274 54 Skivarp Sweden tel +46 739-971342 kontakt@hortebrygga.se