A taste of Scandinavia: Aquavit with a Beer Chaser
From Boilermakers in the US to Herrengedecks in Germany, serving shots with beer chasers is a bar classic known around the world. But have you heard of the Scandinavian twist on the classic, the Herring Hunter?
Beer is commonly served as a chaser for stronger spirits to quite literally 'chase' or break down the strength of the liquor or enhance its flavor. There are many names and ways to enjoy chaser drinks which are often tied to cultural traditions. The Americans have their Boilermaker which is a shot of whiskey with a beer on the side whereas Germans typically enjoy a Herrengedeck, traditionally a shot of Korn with beer.
In Scandinavia if you want to fit in with the locals, ordering a Herring Hunter is the way to go. What's special about the Herring Hunter is the fact that it's always served with a specific spirit, namely the Swedish O.P. Anderson Original Aquavit.

What's the taste experience like?
Traditionally Scandinavians enjoy their aquavit with food, particularly with herring, crayfish, and other seafood. Today, however, we see a shift in consumption as younger generations have embraced aquavit and different aquavit drinks and cocktails such as the Herring Hunter have become trendy. So, what happens when we skip the food component and instead enjoy aquavit with beer?
"Alcohol is a solvent, so when you drink aquavit with food, the flavors dissolve and become stronger. This happens in the mouth when components are mixed. But with aquavit and beer, which are both alcoholic liquids, there isn't really a chemical explanation as to why the flavors are enhanced.", explains Jonas Odland, the spice master for O.P. Anderson.
Jonas continues: "However, we have noticed that both the bitterness of the beer and the alcoholic taste of the aquavit are toned down when you drink them together. The aquavit becomes softer, and the spices emerge while the character of the beer becomes clearer."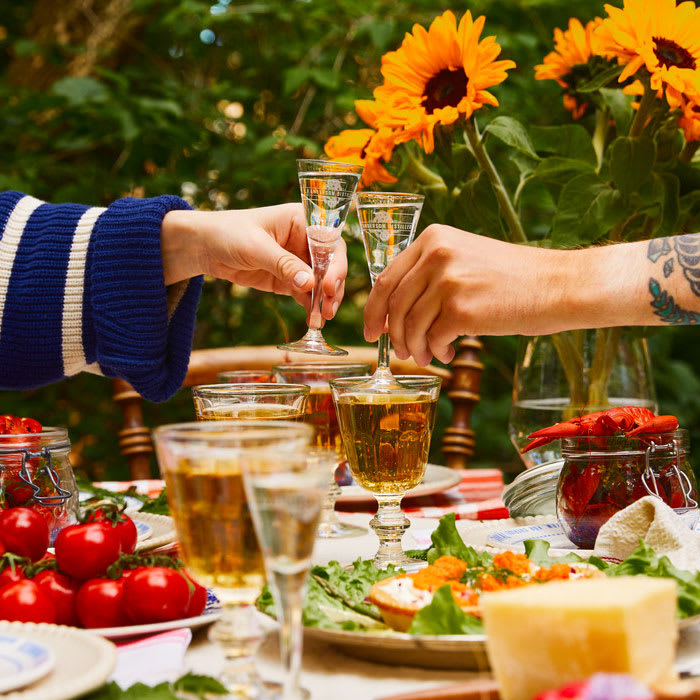 Aquavit in cocktails
While sipping aquavit together with beer is a match made in flavor heaven, there are also other ways to enjoy aquavit and all its rich, herbal flavors. Mixing cocktails doesn't have to be hard so here are three simple recipes for you to try and serve in your next garden party or summer barbeque.
(Psst! Did you know that Swedish aquavit pairs extremely well with pizza and grilled food? See here for our tips.)
1. Olof Palme
This Swedish riff on the classic rum cocktail Fidel Castro is a sure-fire crowd pleaser. See here for recipe.
2. O.P. Tonic
If you're a fan of Gin & Tonic, we recommend giving the aquavit version of it a try! See here for recipe.
3. Nordic Lemonade
Hosting more guests and looking for a tasty yet easy punch recipe? Look no further. Nordic Lemonade is great for many occasions, especially crayfish parties. See here for recipe.