Blossa 2019 annual glögg edition has tastes from Hawaii
This year, the Blossa annual glögg has gone in search of inspiration to the Hawaiian island of Oahu, in the middle of the Pacific's tropical zone.
The Blossa 19 Aloha glögg owes its beautiful colour to red hibiscus flowers. The planning and production of Blossa glöggs requires precise and long-range team work. The planning of the new annual glögg, for example, began 18 months ago.
The hibiscus (hibiscus sabdariffa) used in this white wine-based glögg is common in Hawaii, and is used as a decorative plant in addition to being made into tea.
"The tropical sweetness in the vegan Blossa 19 Aloha derives from passion fruit, and is balanced by the fruity acidity of the hibiscus flower. The flavours of coffee and coconut are a good match, and they introduce slightly chocolaty vanilla flavours into the glögg's aftertaste. The glögg's range of aromas is refreshingly fruity and pairs nicely with Blossa's traditional glögg spices, such as clove," says Åsa Orsvärn, Blossa's Chief Blender.
Blossa annual glöggs can always be enjoyed both chilled and warm.
Åsa Orsvärn, Blossa's Chief Blender
What's the best way to enjoy Blossa 19 Aloha?
"Blossa annual glöggs can always be enjoyed both chilled and warm. I'd recommend drinking it slightly chilled at the beginning of the glögg season in the autumn, and moving on to its warmed up version as winter and the cold weather draw near. You should try it with an aged cheese or salted and roasted almonds, since the glögg's rich and fruity sweetness goes very nicely with both sweet and savoury snacks," says Orsvärn
The bottle's design depicts hibiscus flowers
The pattern adorning the Blossa 19 Aloha bottle, imitating the Aloha shirts of the 1950s, depicts hibiscus flowers. The bottle's beautiful coral colour is very similar to the colour of the glögg itself. It was inspired by the coral reefs surrounding the Hawaiian Islands. The turquoise colour of the numbers refers to the sea and the surfing culture, whereas the stopper symbolises the colour and surface of a coconut.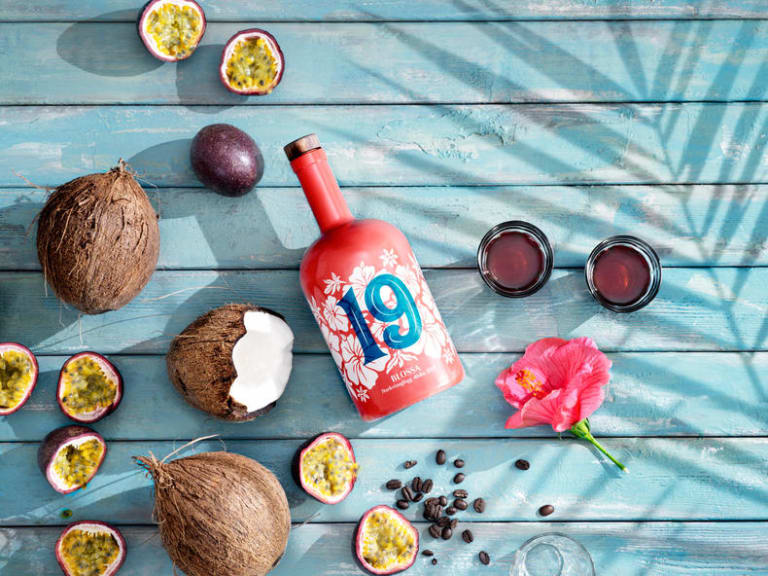 Blossa annual glögg
Blossa has launched a new flavour ahead of every winter season since 2003. The unique bottle design of each vintage has also increased collectors' interest toward the annual glögg. Since 2011, Blossa has cast its net wider in search of inspiration for its annual glögg. The classic glögg herbs have been blended with new and exciting flavours from every corner of the world. In recent years, Blossa has sought inspiration from South America (2011), Japan (2012), India (2017) and Italy (2018).
Blossa 19 will be available in Nordic Spirits during October. Order our newsletter to get the latest news & offers!