Christmas festivities are approaching and in Scandinavia a Christmas menu is hardly complete without aquavit, commonly referred to as schnaps. Read along to find out the best kind of schnaps for different kinds of Christmas food.
Spiced spirits' best feature is that they enhance flavors. The unique flavorings in aquavit strengthen the flavor of the food which puts emphasis on finding the best flavor matches between the two. Many deem aquavit as too alcoholic which stems from the habit of drinking it in one go as a shot. Instead, schnaps should be sipped and slowly enjoyed while exploring the taste experiences and observing how the flavors in the food and drink can take each other to new heights.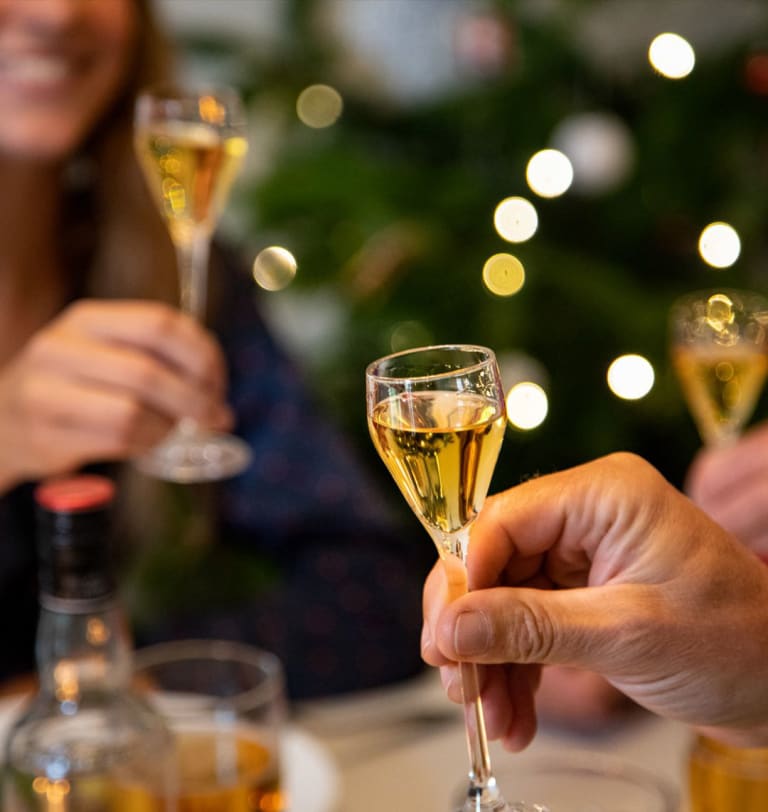 How to match food and drinks on the Christmas table
A Scandinavian Christmas menu typically consists of three courses. First, you start with a spread of cold dishes including fish in many different varieties and forms. You might see pickled herring, cured salmon, smoked salmon, and other type of fish on the table. Then you move on to the warm dishes traditionally consisting of Christmas ham and possibly sausages and meatballs. Nowadays there are also many fantastic vegetarian and vegan dishes available on the Christmas table. Finally, you conclude the meal with some dessert and perhaps some cheeses.
Now let's crack the code which aquavit goes best with which course.
Starting with the fish
When pairing aquavit to food it's important to think about the seasonings and spices in both. For example, traditional pickled herring is based on a vinegar mixture with 2/3 of sugar making it sweet and sour at the same time. Caraway is one of the few spices that can match this unique fish dish which you can also find in many aquavits including O.P. Anderson Aquavit, Linie Aquavit Original, and Aalborg Taffel Akvavit.
Cured salmon on the other hand benefits from lemon seasoning which you can find in O.P. Anderson Klar whereas other fish commonly seasoned with dill go hand in hand with Aalborg Dild Akvavit, also flavored with dill. For smoked fish we recommend Herrgård's Aquavit which you can find as a miniature in the Svenska Nubbar aquavit starter pack as it has been aged in sherry casks and flavored with whisky.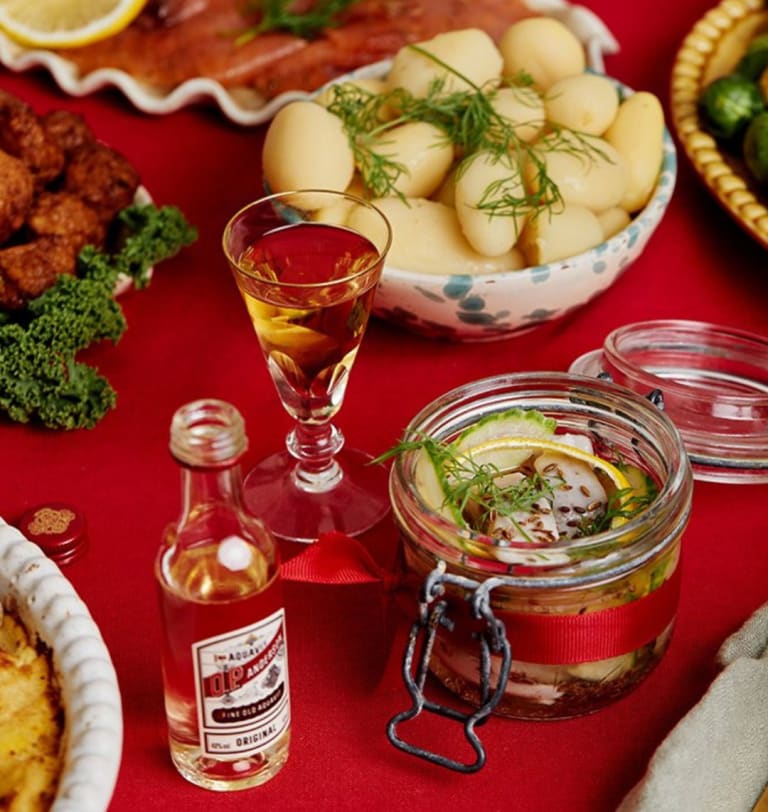 Moving along to warm dishes
Whether you opt for the traditional Christmas ham or are more of a fan of the vegetarian dishes, the main idea stays the same. You need to pay attention to how flavorful the dishes are and what spices are used in them to find the right schnaps match.
Meat dishes such as Christmas ham, sausages, and meatballs go well along with fruity and aged seasonings. Östgöta Sädesbrännvin found in Svenska Nubbar is for instance the perfect flavor enhancer for these type of dishes thanks to its flavors of cask aging, whiskey, and honey. When it comes to green dishes, if it's a mild dish you should opt for a mild schnaps and the opposite applies, a flavorful schnaps for a flavorful dish. A good rule of thumb is that if the spice used in the aquavit is either already in the dish or could fit in it, it's likely a good match.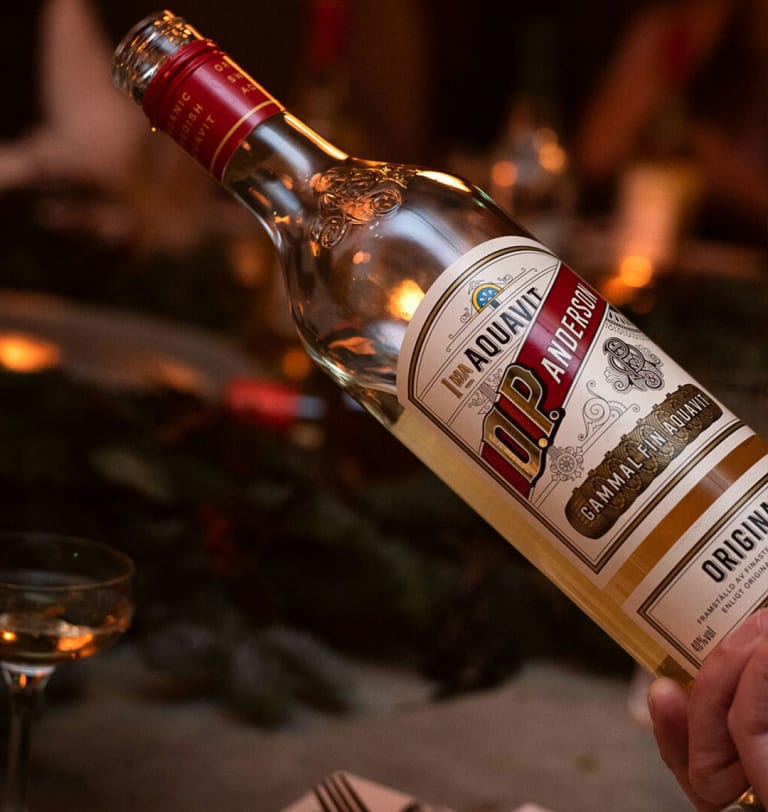 Completing the meal with desserts
No meal is complete without some dessert. You might enjoy some aged cheeses or chocolate-based desserts at the end so here's how to go about pairing schnaps.

While cheese is typically accompanied by wine you can't go wrong with aquavit either! Caraway is an excellent spice match with cheese in itself but if there are also some notes of barrel aging and fruits even better. We'd recommend the tasty, sherry infused Gammal Norrlands Akvavit found in Svenska Nubbar or Aalborg Taffel Akvavit thanks to its gentle notes of orange. As for chocolate, Rånäs Brännvin also found in Svenska Nubbar is a great match as it has a clear character of orange and hints of cinnamon that go wonderfully with the rich flavors of chocolate.
If all that food during Christmas gets you feeling a little heavy, a good digestif is in place. Bäska Droppar serves just this purpose by helping you digest the food.