Lucia Day – the Scandinavian midwinter celebration
Santa Lucia is a 400-year-old tradition that brings peaceful joy in the form of light, hymns, and treats across the Nordics on the 13th of December.
St. Lucia's Day is as integral to Scandinavia as glögg, midsummer, and crayfish parties. Celebrated annually in December, the Lucia Day is an atmospheric event with singing, a candle lit procession, and Christmassy treats.
The origins of Lucia
Lucia Day can be traced back to the 4th century and commemorates Lucia of Syracuse, a young Christian girl dedicated to helping the people. The legend has it she was wearing a candle lit wreath on her head to keep her hands free when bringing food and aid to Christians hiding in Roman catacombs. Lucia's feast day coincided with the historic Julian calendar's shortest day of the year and is widely celebrated as a festival of light.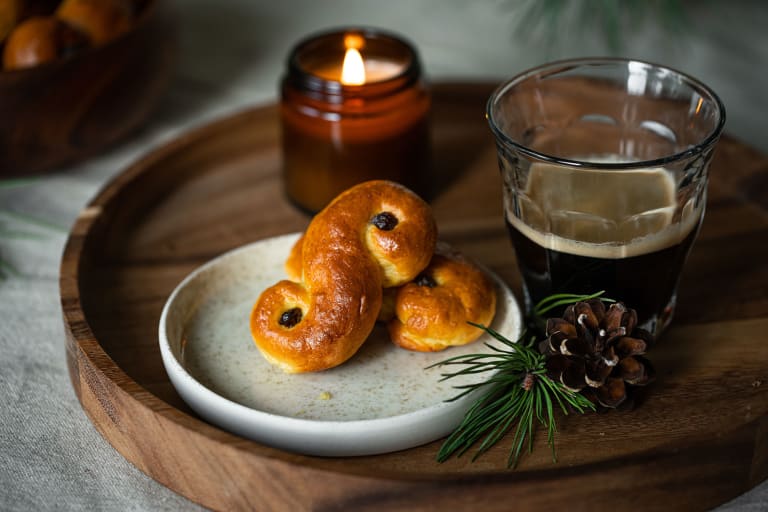 The Lucia Day essentials
Lucia's role in the dark Nordic winters is that of a light bearer. Candle lit processions are taking place at various locations including churches, town halls, schools and even restaurants. The procession is led by Lucia with a candle wreath at the top of her head and trailed by handmaidens, star boys, and gingerbread men – all wearing white full-length gowns. With the lights dimmed, there is a special atmosphere when watching a candle-lit, hymn-singing procession enter the room.
In addition to being the bearer of lights, Lucia is also known for offering treats. Tasty delicacies such as gingerbread cookies and S-shaped saffron buns called 'Lussekat' are served together with cups of glögg – garnished with almonds and raisins of course. In fact, 'Lussekatter' are only enjoyed on St. Lucia's Day and the weeks leading up to Christmas.
Celebrating Lucia
Lucia Day is first and foremost a day of celebrating light cutting through the darkness, thoughtfulness, and kindness. Many cities in the Nordics vote for a Lucia but it's not just about walking and waving to the people. The chosen Lucia has many roles and social responsibilities such as visiting elderly homes, hospitals, and daycare centers while collecting funds for those in need. So spread kindness this Lucia's Day and Christmas. Here are a couple of ideas for random acts of kindness:
Bake cookies or lussekatter to neighbors, elderly homes, people living alone, or anyone in need of some Christmas cheer.

Leave an anonymous card wishing Merry Christmas to a stranger.

Buy coffee for the next one in line or pay for an extra coffee for them to gift to someone later that day.

Send a postcard or flowers to a loved one.

Treat your colleague to some glögg and gingerbread cookies.