Today, Renault Carte Noire Extra Old is still blended using this same recipe. As a result of this unparalleled history, Renault Carte Noire has been and still is the reference point for quality among cognac connoisseurs around the world.
The flagship of Renault Cognac House is the iconic Carte Noire blend which received a registered trademark in the United Kingdom in 1876 – making it one of the oldest cognac recipes still in use. Today, Renault Cognacs are still produced in the spirit of Jean Antonin Renault in the heart of the Cognac region.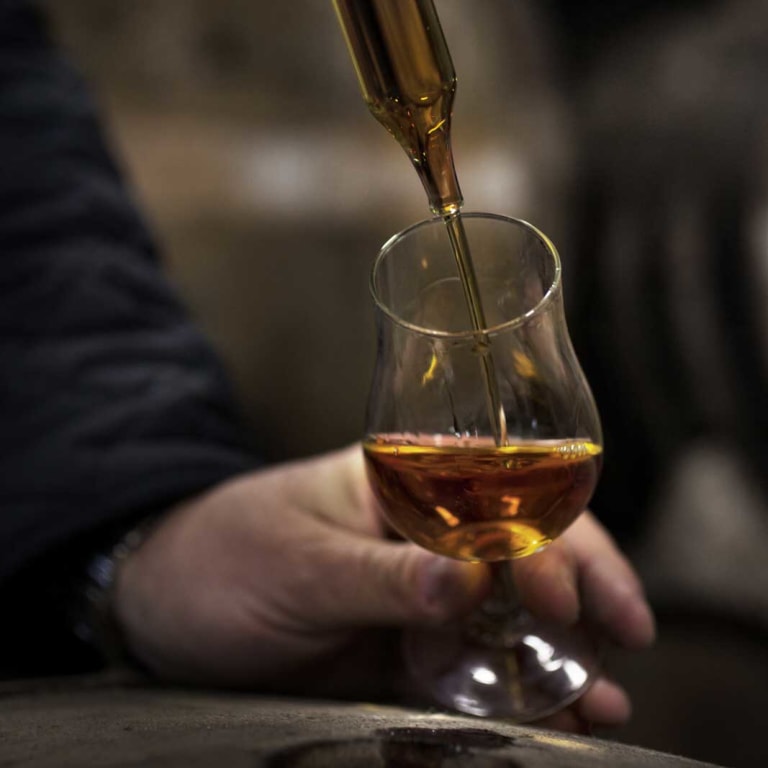 Blending makes the difference
Blending is the most important part of the process when making excellent cognac. There is a huge amount of barrels of eaux-de-vie in Renault cellars and the aromatic palette is huge – creating the ideal balance of taste and aroma is craftsmanship in its finest form. For example, Renault Carte Noire cognacs are created by blending more than 50 different, carefully selected eaux-de-vie. The crus where the grapes are grown have a great impact on the flavour and characteristics of the cognac: Grande and Petite Champagne offers rich, complex and very floral aromas, Borderies are very elegant with notes of violet, Fins Bois and Bons Bois are very fruity and expressive in young eaux-de-vie. Renault Master Blender David Croizet guarantees that Renault maintains its distinctive flavour year after year. Master Blender carefully chooses the vineyards that Renault uses as well as the best distilleries in order to have the best eaux-de-vie to elaborate the best cognacs. And of course Master Blender's experience, intuition and passion are especially crucial when finding the right selection of eaux-de-vie from different vintages and growths. As said, blending really makes the difference.
The ageing process
Renault cognacs start the ageing process in new barrels which give the eau-de-vie its rich amber and gold colour and help develop flavour and aroma. After six months, the eau-de-vie is moved to older barrels which concentrate the aromas and develop new flavours, richness and complexity. The process of storage and ageing in older barrels lasts up to 50 years.
History of Renault Cognac
Jean Antonin Renault, a 25-year-old Charentais businessman created Renault Cognac in the town of Cognac in 1835. He enjoyed a reputation as an innovator who appreciated true quality. Jean Antonin Renault was the first cognac maker to ship his cognac in bottles which guaranteed that the cognac kept its original taste and delicate flavours. Renault was a great voyager and he started to sell cognac during his travels to Scandinavia, Germany, Eastern Europe, Iceland, the Americas and Asia.