Larsen Aqua Ignis - The world's first cognac aged in steam-toasted barrels
True to its exploring spirit, Maison Larsen unveils four years of R&D work and presents the unique and first of its kind cognac - Larsen Aqua Ignis, aged in steam-toasted barrels for an extraordinary result.
The new cognac from the boutique House Larsen is characterized by two special features: a particularly fruity taste and a high level of innovation. Larsen Aqua Ignis is the first cognac in the world to mature in steam-toasted barrels and while the idea is simple, the Steam Fire process patented by Larsen is complex. Each cask, made of traditional French oak, is plunged into hot water and then toasted over hot fire three times. This technique releases the most complex and finest aromas from the wood while keeping out undesired smoky notes, tannins, and acidity that would otherwise superimpose fruit aromas. The result is delightful with intense aromas of vanilla, toasted bread, mocha, and brioche with a long and silky soft finish.
How is Larsen Aqua Ignis created?
The eaux-de-vie that make up Larsen Aqua Ignis have been carefully selected from the Fins Bois and Bons Bois vineyards known for their soils that produce intense fruity aromas. These eaux-de-vie go through a two-step ageing process. First, they are aged in traditional oak barrels. Once extracted, they are blended and taken into "Aqua Ignis III" barrels where they will continue their ageing at an alcohol degree of 50%.
This second ageing step is the most special. "Aqua Ignis III" barrels are a small batch of hand-made, fine-grain French oak barrels with a capacity of 225 liters that have been exposed to triple brasero steam-toasting. Each barrel is plunged into hot water then toasted over hot fire, three times.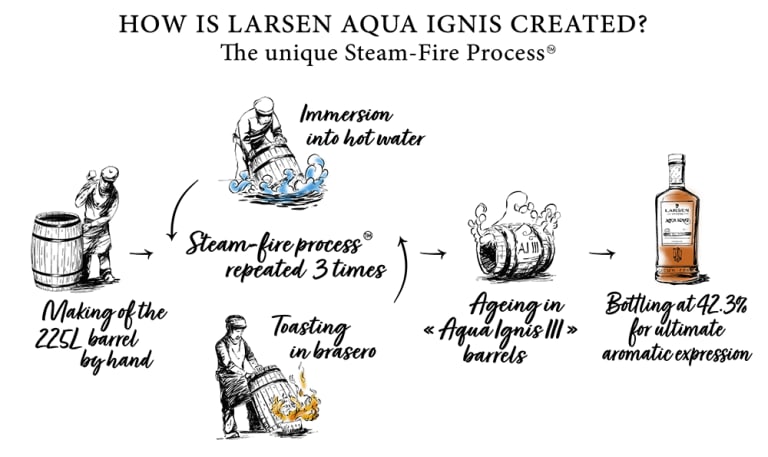 Why the name Aqua Ignis?
The triple steam-fire process used to create Aqua Ignis is unprecedented and legally protected. It makes Larsen Aqua Ignis a cognac like no other, outside of the typical cognac categories. It is also what gives it its name: "water" (aqua) and "fire" (ignis) in Latin, or the combination of water and fire, pushed to their limits.The use of the water and the steam avoid to the wood fiber to "burn" during a long standard heat in brasero: the unwanted tannic and smoky notes are avoided.
How to enjoy Aqua Ignis?
Larsen Aqua Ignis can be enjoyed around any occasion. It is very expressive when served neat. On ice, it makes for an indulgent and gratifying consumption. You'll find that the ideal ratio is 4:1. But Larsen Aqua Ignis is also great in cocktails! It makes for a superb Old Fashioned. In fact, as cocktails were popularly made with cognac in the 19th century, we wager that the first Old Fashioned cocktails were made with cognac. Here is what we recommend:
• 6 cl Larsen Aqua Ignis • 2 or 3 dashes of bitters • 4 large ice cubes • Just a little bit of sugar • Garnish: orange peel