The glögg season is getting longer
Glögg, considered a traditional Christmas drink, has steadily been gaining ground outside its typical consumption season thanks to its versatility. Enjoy it hot, cold, or as an ingredient in baking and cooking!
Hot, cold or in baked goods
Glögg and other hot drinks, such as homemade spiced wines, are perfect for warming up cool evenings all year round. When chilled, glögg works also wonderfully as an ingredient in cocktails, punches, and baked goods.
- When chilled, glögg can be easily used in making a delicious punch or, for example, a spicy sangria, that works as a refreshing drink in the summertime. Glögg can be boldly matched with new flavors as it's richly spicy and sweet and can, thus, stand up to even surprising combinations. Combining glögg with warm apple cider or making a welcome drink from glögg and sparkling wine are good examples of the versatility of Nordic glühwein. Glögg is also an excellent ingredient for many pastries and other dishes, says Anora's Brand Ambassador and Bartender Mikael Karttunen.
For example, try a Glögg Spritz by combining Blossa Vinglögg and semi-dry sparkling wine. Chill the drinks in the fridge and pour into a sparkling wine glass in a 50/50 ratio. Mix gently with a spoon and enjoy.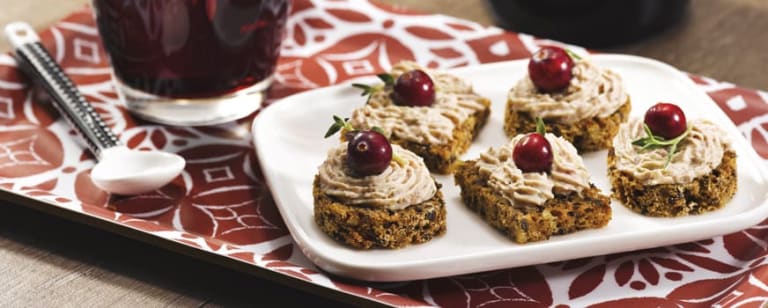 Use glögg in cooking and try bold combinations
Glögg is a natural drink choice to accompany baked goods, but it also works wonderfully as an ingredient. Try making, for example, chocolate Blossa truffles or lingonberry Blossa brownies. Glögg can also be used to make parfaits or glazes for cakes such as a cheesecake.
Aromatic and spicy glögg is also great for cooking. Nordic glühwein can be used, for example, in marinades to bring tenderness and aroma to the meat or in sauces and stews. Replacing some of the wine with glögg in red wine sauces is one great way to add a little extra flavor to the sauce. Blossa's Chief Blender Åsa Orsvärn advises using glögg in Bolognese sauce. Glögg has a little wine, sweetness, and spices that really emphasize the flavors of the Bolognese sauce.
The taste world of the spicy sweet glögg is so wide that you can enjoy a wide variety of flavors with it. For easy pairing try it with gingerbread, blue cheeses, and fruits. On the savory side, enjoy glögg with traditional Finnish Archipelago bread (a type of rye bread) and reindeer mousse.