Must-go places in London: Aquavit restaurant
The Scandinavian restaurant Aquavit has quickly become one of London's top restaurants. Its Scandinavian design and menu full of tastes from the north have conquered the hearts of both locals and tourists.
The St James Market quarter is quiet. In spite of that, the Aquavit restaurant is full. The owner of Aquavit, Philip Hamilton, says that frequent guests include a broad range of Londoners; from capital investors to the editors of GQ and Esquire, popular lifestyle magazines.
Also, to a Scandinavian eye, the number of personnel might seem significant. The reason for this lays in cultural difference.
"In England, people are used to management from the top. Tasks among the personnel are divided with detail", says Hamilton.
That can also be a great advantage. As the wages are lower than in Scandinavia, restaurants can afford more personnel. At Aquavit, this results in top-notch quality of the food. The restaurant is currently ranked as one of the best in the whole of London.

"In general, the quality of restaurants in London is very, very high", says Hamilton.
The Frenchmen would call Aquavit a "brasserie". Philip Hamilton suggests that all-day dining is the best term to describe his masterpiece. At Aquavit, it's possible to enjoy breakfast, lunch, dinner and, of course, afternoon tea.
According to Hamilton, the menu is international with a Nordic twist. One can find blood pudding, liver paste and potato dumplings on the menu.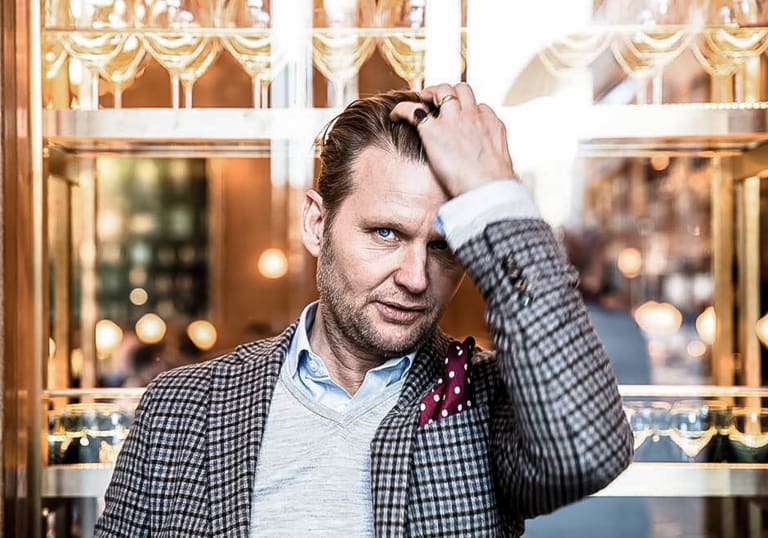 It seems that Philip Hamilton's concept is working like a charm. In fact, it's working so well that he is planning to go global with it. He already has an eye on facilities in both Shanghai and Dubai.
"I have been in the business for 35 years. I know how to run restaurants. But the success – it's all about the story", he claims.
"And that's what we have."
The interior design of Aquavit has been done by Martin Brudnizk, a Swedish interior architect. A mat by a famous Danish-Icelandic artist, Olafur Eliasson, is hanging on the wall. The restaurant's cutlery is by George Jensen.
Nordic seems to be a sort of a buzzword at the moment in London. Simultaneously, a growing interest in aquavits and cocktails has appeared. The restaurant Aquavit, of course, lists aquavit cocktails on the menu. Philip Hamilton has a good question:
"Why couldn't we have vodka, rum and then O.P. Anderson?"
Good question. Why couldn't we?