Add a festive twist to your holiday drinks by making Christmas ice cubes. Not only will they keep your favorite beverage cool, but they also look amazing and will add some extra flavor.
Christmas ice cubes are super easy to make and add an instant festive pop of color to your holiday party. Prepping the ice cubes takes only about 5 minutes and the best part is you can prepare them days or even weeks in advance! All you need is an ice cube tray, some fresh fruit, berries, and herbs of your choosing.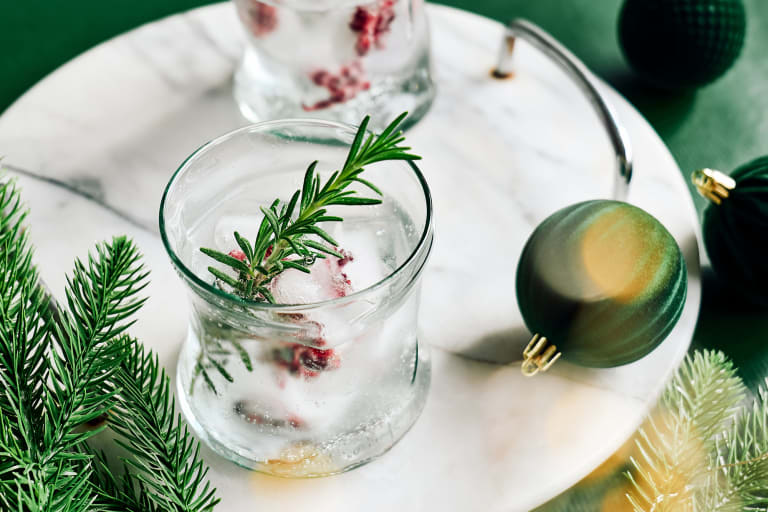 Ingredients for festive ice cubes
The options for what ingredients to use are endless. Add your favorite fruits and berries and whatever goes best with the cocktail, mocktail, or punch you're serving. If you're wondering about what ingredients would fit the drink, it's a good idea to pay attention to what the cocktail is typically garnished with. And of course, hues of red and green are a great start when making Christmas ice cubes. Here are a few festive ideas for ingredients:
Berries: raspberries, blueberries, lingonberries, cranberries, blackberries

Fruits: orange, lemon, lime, grapefruit, pomegranate seeds

Herbs: rosemary, thyme, mint, basil, lemon balm

Other: edible flowers, edible glitter (great for New Year's!)
How to make Christmas ice cubes
Follow these simple steps to prepare your ice cubes

Wash your fresh ingredients and slice or chop them if needed. We advise you to shop organic produce as always when it comes to cocktail decorations.

Add the ingredients at the bottom of the ice cube tray.

Fill the ice cube tray with water. If you want to avoid cloudy ice cubes, it's a good idea to boil the water beforehand (let it cool to room temperature before filling the ice cube tray).

Freeze for at least 4 hours – the larger the cube the longer it takes. If you want to make more, remove the ice cubes from the tray and store in a freezer bag or container.