Pairing snaps with crayfish
Crayfish parties are integral to Nordic summers and it's hard to find a drink better suited to crayfish than aquavit. Learn how to pair snaps to crayfish and how to season your seafood.
A few days into August, many people in the Nordics start preparing for the crayfish season and parties. Drinking snaps is an essential part of these colorful late summer parties but which aquavit is actually best suited to crayfish?
The perfect match for crayfish is aquavit flavored with dill which is also the herb needed for boiling the crayfish. Aquavit with clear dill notes is an unbeatable combination for crayfish as it raises the taste experience to new levels. However, it's important not to serve aquavit too cold as the flavors disappear if the bottle is put in the freezer. The perfect serving is at room temperature or slightly chilled.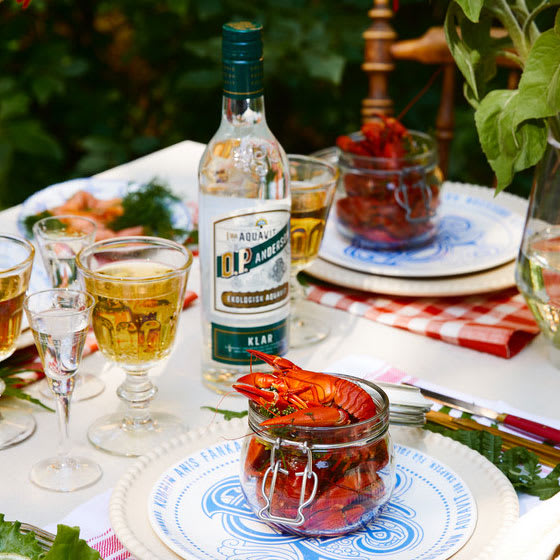 To take the crayfish and all its wonderful flavors to new heights, we recommend choosing either O.P. Anderson Klar Aquavit or Aalborg Dild Akvavit - both flavored with dill for a fresh and full-bodied taste.

Psst! If you're looking for a tasty punch recipe to serve during a crayfish party, look no further! This Nordic Lemonade is the way to go. See here for the recipe.
Preparing your crayfish
You can enjoy the dill-flavored aquavits together with crayfish but also to season them when preparing the seafood. Here's a fool-proof recipe for boiling and seasoning your crayfish:
Ingredients:
1 kg fresh crayfish

3 l water

1 dl coarse sea salt

1 bunch of dill

1 bottle of Porter (beer)

2-3 tbsp raw sugar

0,5 dl dill-flavored aquavit such as O.P. Anderson Klar or Aalborg Dild
Preparation:
Bring everything except for the aquavit to a boil and let boil for a few minutes. Save a few sprigs of dill for after.

Add the crayfish in and let simmer for approx. 7 minutes.

Cool the whole pot in a water bath and pour in the aquavit.

Add some fresh dill, cover the pot, and leave it in the fridge overnight.