Blossa Rosé – Pink and fruity glögg novelty
Blossa Rosé is here! This drier and fruitier glögg that has a fresh rosé wine base is unlike most glöggs, best served cold with an ice cube or two in it. (But of course, you can heat it too!)
The rosé wine trend is now visible in the world of glögg as well and for good reason. While many of us associate rosé with warm summer days, it's actually a much more versatile drink and fitting for the winter season too.
If we think of Christmas dishes, rosé wine is a great addition to the table as it complements a wide range of flavors. It's not too overpowering so that it would hide subtle flavors, but it also has enough character to pair with meat dishes, for instance. So, it only makes sense that Blossa, Sweden's most sold glögg brand, would mix fresh rosé wine with traditional glögg spices to create the ultimate winter drink!

A drier, less sweet glögg
Blossa Rosé is lighter and drier than the traditional red wine based glögg. In addition to the traditional Blossa glögg spices of cloves, cardamom, and ginger, also strawberry and cranberry extract has been added for fruity and berry notes that complement the rosé. If you think regular Nordic Glühwein is typically too sweet, then this is the drink to try!
"We have seen an increased interest in enjoying different glögg alternatives, especially drier ones, during the glögg season. We have therefore broadened our product range in recent years and are now pleased to present Blossa Rosé. It's a less sweet drink that is best served crisp cold and also extends both the rosé and glögg season for those who simply can't get enough" - Emelie Eriksson, Senior Brand Manager for Blossa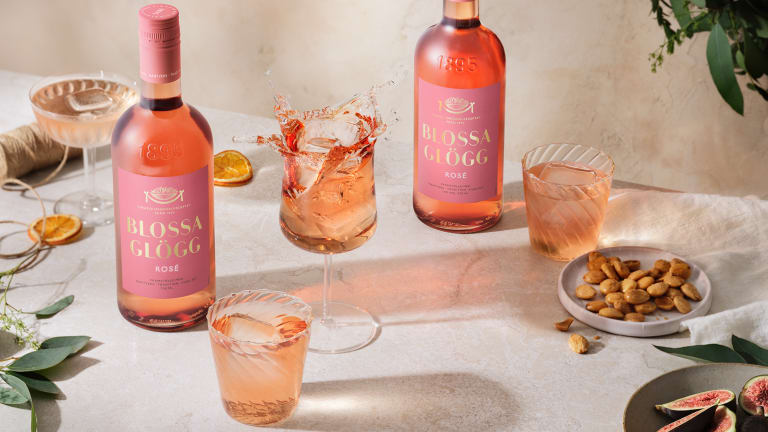 How is Blossa Rosé best served?
Glögg is increasingly being enjoyed cold or with ice as individuals want to explore new ways to enjoy traditional drinks. Blossa Rosé fits this purpose perfectly as it's best enjoyed cold unlike classic Nordic Glühwein. Since it has less sugar than other Blossa glöggs, the taste is also fresher and more wine-like and, thus, works wonderfully as a cold drink. However, when the weather turns colder, don't shy away from heating this drink for cozy evenings!
We'd recommend serving Blossa Rosé as an apéritif, either as it is or topped up with some sparkling wine - perhaps with some salty Marcona almonds and fresh figs on the side. If you'd like to enjoy the drink warm, garnish the glögg with some dried cranberries instead of raisins to enhance the flavor of the rosé.
Blossa Rosé Spritzer
Enjoy Blossa Rosé cold, warm, or as a tasty cocktail. Here's an easy recipe to get started with:
6 cl Blossa Rosé

6 cl sparkling wine

Splash of Sprite

A few orange slices (fresh or dried)
Fill a wine glass with ice.

Measure in Blossa Rosé, sparkling wine, and a splash of lemonade. Stir gently.

Garnish with orange slices and enjoy!